THE HIGHS
If the human species has one redeeming quality, it is our indomitable spirit. Faced with the challenges the coronavirus has presented, agile companies have found ways to thrive. Here are a few areas in which new opportunities have been seized:
1. Business continuation heroes
Had the entire global economy ground to a halt during this pandemic, no one would have been surprised. But it didn't. Instead, enterprising organizations found ways to continue on. Agile entrepreneurs and sales teams found resourceful ways to drive revenue. According to Forbes1, the manufacturing sector looks to recalibrate and leapfrog years of innovation adopD tion in mere months- "COVID-19 requires the modernization of manufacturing. Since the problem of "distance" can't be solved without the adoption of technology, we're going to see many years' worth of innovation in the next 18 months. Many of these solutions will bring greater efficiency, lower costs, and less waste, enabling them to outlast the pandemic and pay for themselves quickly. Regardless of industry, the companies who have best navigated COVID19 all share one common feature: they have found a way to continue business in a way that carried the entire company and its employees away from failure.
2. Remote work
The advent of the coronavirus in the United States led to a rapid relocation of a large chunk of the American workforce. Cubicles and corporate offices were traded for kitchen tables and home offices almost overnight. Beginning at 31% in mid- March, the number of people who reported working from home grew to a peak of 62% in mid-April.2 This, in turn, had a domino effect on virtually every aspect of business. Commercial real estate costs are shrinking as companies turn to remote employees. Corporations no longer require massive office spaces, as employees are staying connected via email, messenger and online meetings.3 This also led to an increasing adoption of new technologies. Some experts claim this crisis has accelerated three years of digital culture into just three months. Technology has transitioned from a means of providing work infrastructure to a means of enabling the work itself.

Alongside this tech explosion, there has been a dramatic shift in means and methods of communication. To compensate for this explosion, companies are becoming increasingly more reliant of analytics and digital risk assessment. Research has shown that early adopters of remote work are as productive as in-office teams, but face new challenges in collaboration and communication. Employee morale has benefiIed as well, as flexible scheduling and the elimination of the commute has allowed them to spend more time with their families or work from anywhere.
3. The future of sales
For a long time, the focus of business has been on efficiency. Thanks to COVID19, that has shifted to an emphasis on resiliency, where business continuation contingencies have become more valued than margin levels. Sales professionals have shifted their go-to-market model to emphasize digital and remote selling, with two-thirds of B2B decision-makers indicating this new model was as, if not more, effective than the previous model. Looking forward, they expect these types of interactions to be as much as three times more important to customers as traditional sales.
Companies are shifting their focus to developing and digitalizing new sales processes and playbooks Sales representatives are focusing more on skills like social selling, digital marketing and automation. This new approach and collateral provides a competitive advantage over competitors who have been slower to react. The most agile companies are seeing their market share grow while others are still frozen in fear of losing business.
THE LOWS
While the resiliency of the human spirit has been on full display during this pandemic, we have also seen more than a few lows, to which the business world has not been immune. Here are just 3 of them:
1. Decreasing sales
Sales are the engine that drives the economy, but the coronavirus upended the B2B salesforce worldwide with unprecedented speed. Virtually every industry witnessed a sharp and sudden drop in demand, leading to a global economic crisis.
According to this survey 4, buyers are finding themselves strapped for cash, and as such, are reluctant to make new purchases. This, in turn, created a negative feedback loop that has rippled across industries.
2. Struggling with digital selling
Not just a side effect of its titular service, many workers are finding themselves dealing with "Zoom fatigue." More than in-person meetings, video conferencing seems to be particularly draining. A team of academics at Boston University surveyed 182 senior managers and found 71% found their online meetings to be "unproduc)ve and inefficient," with two-thirds saying they came "at the expense of deep thinking."
Scientists believe this is rooted in the unnatural design of these meetings. Whereas in-person mee)ngs adhere tonatural standards of eye-gaze (i.e. how long and how often people look at one another), video conferencing requires participants face the camera and stare. Looking away seems intuitively rude and could lead to other participants assuming they are being ignored. Additionally, video chat makes it more difficult to achieve synchrony, the unconscious back-and-forth that occurs when people are face-to-face.
Most importantly though, digital selling has impacted buyer interaction – it is more difficult than ever to keep buyers engaged, to stand out from the competition, to effectively communicate value, and to advantageously utilize visuals. Also, most salespeople have not been trained in how to use virtual tools, leading to technological difficulties, which further distance prospects. Nowadays, your most important sales tools have become your digital assets, and your ability to present them in the most effective ways. The companies who master this are the ones that will not only survive, but thrive in this "New [digital] Normal"."unproductive and inefficient," with two-thirds saying they came "at the expense of deep thinking."
3. Culture crunch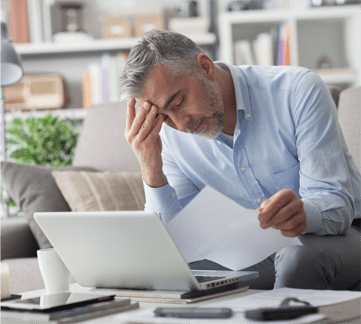 Organizations of all sizes have seen their culture take a hit during the pandemic. From mental health concerns brought on by loneliness and isolation, to fears about mortality and physical health, the constant cycle of bad news and ongoing economic uncertainty has eroded the underlying culture of many organizations. In addition to collaboration challenges between employees, many workers feel that management is not seeing the full extent of their contributions, leading to concerns about career trajectory. Additionally, as many as 32% of organizations have replaced full-time employees with contingent workers as a cost-savings measure.5
Many companies are struggling with ways to efficiently organize themselves while maintaining productivity and teamwork. Communication has always been the key, but managers with subpar communication skills are struggling to adapt to this new norm.
1https://www.forbes.com/sites/annashedletsky/2020/05/12/due-to-covid-19-manufacturing-will- experience-five-years-of-innovaDon-in-the-next-18-months/#512ab8db2312
2https://www.mckinsey.com/business-functions/organization/our-insights/reimagining-the-office-and-work- life-after-co
3https://www.regus.com/work-us/revolutionising-how-to-sell-workspace/vid-19
4https://www.thundertech.com/blog/June-2020/Consumer-Behavior-Trends-B2B-Sales-and-COVID-19
5https://www.nytimes.com/interactive/2020/06/09/magazine/remote-work-covid.html 6 https://www.gartner.com/smarterwithgartner/9-future-of-work-trends-post-covid-19/