ManFace is a new men's skincare program which contains everything your skin needs, and nothing it doesn't. Delivered every month to your door. We were hired on to build this new direct-to-consumer brand and the needed investment raise to go to market.
We were assigned to bring this start-up concept to reality from business model to brand identity strategy to implementing all sales collateral and packaging.
Assess
Sales & Marketing Assessment Report, Pre-Sale | Sale | Post-Sale Touchpoints, Buyer Intelligence, Competitor Shopping
Optimize
Sales Go-To-Market Playbook, New Lean-Data Sales & Marketing Dashboard, New Revenue Opportunities, New Sales Deck
Build
NEW Unified Marketing & Sales Story Messaging Assets, Sales DNA Standard Operating Procedure, Custom Sales Collateral Creation, Final Approved Assets Tested & Refined
Launch
Pre-Launch Marketing & Sales Training, New Sales Assets Testing & Refinement, Post-Launch Internal & External User Adoption Report.
Monetize, measure & refine
Lean-Data KPI Dashboard Monitoring, Sales-Growth Analysis, Hands-on Sales Activity Support, Monthly Sales Recommendations Report. Quarterly Sales Campaigns, and Team Workshops.
The space of men skincare is dominated by large corporate players who have leading women skincare and repackaged for men. Our Sales & Marketing Assessment Report highlighted the main competitors in this direct-to-consumer model niche as well as others who have carved large market share within the men's skincare market.
Understanding and reporting on the specific type of man that would buy an accessible-luxury men's skincare product was fascinating as many facts that we knew about, and some startling ones that made a direct impact on our launch strategy. All pre-sale, sale, and post-sale touchpoints were assessed with key recommendations at each stage to best position the brand and its value propositions to influence a buying decision.
In true e-commerce fashion, we identified the vital key performance indicators to monitor sales adoption across a multi-prong marketing strategy. The Sales Go-To-Market Playbook was used as a tactical checklist of things that must be done to drive user adoption and online sales in pre-launch, launch, and post-launch phase.
Balancing masculinity with a need to appeal to men who have an active lifestyle, highly driven, and attracted to aspirational brands required distinctive brand imagery and messaging. Logo Directions
The new brand assets were tested across a niche male audience who best represented the client's target demographic to test for messaging, visual appeal, pricing, and probability to purchase.
Everything was prepared for the investment raise as the first step toward full brand development and proof of concept.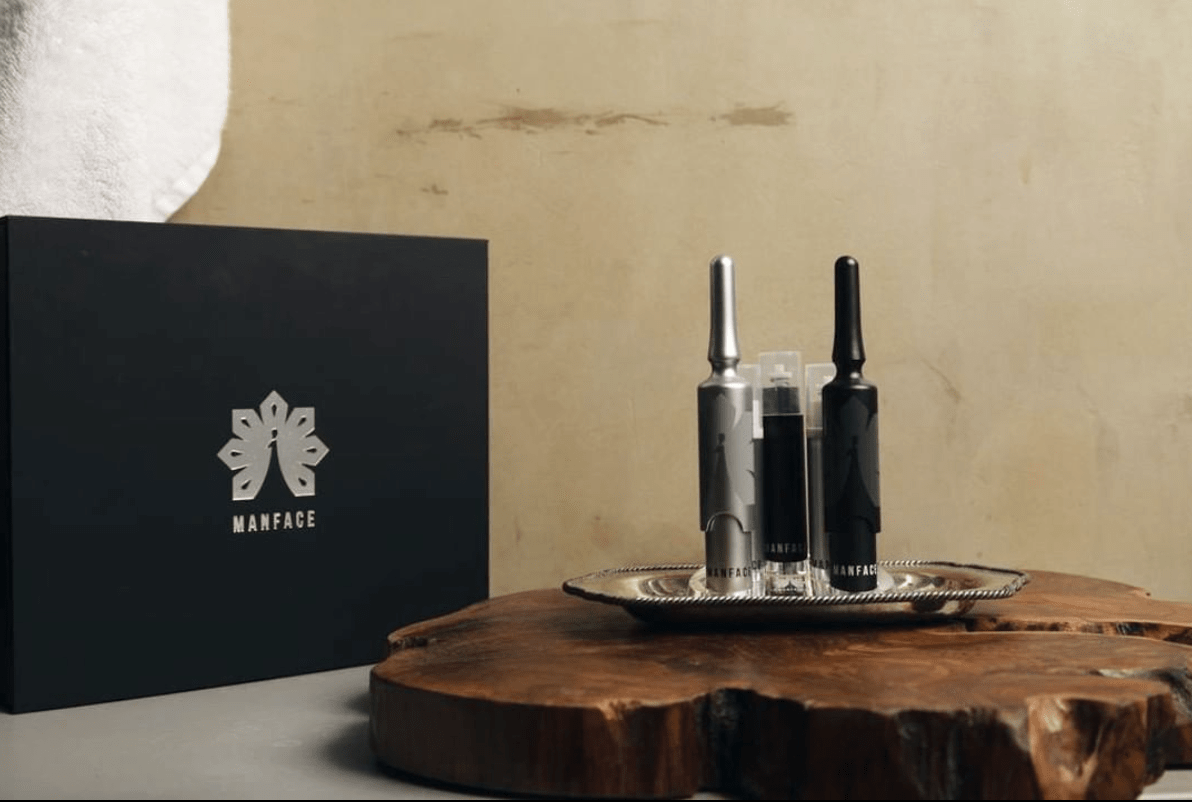 After all assets were built out, the ManFace team landed a strategic angel investor to refine production and operational aspects of the business prior to the full investment raise. "We worked for a period of 12 months with the Knightsbridge team to develop and launch our subscription-based MANFACE skincare brand. They produced exemplary work from initial business model concept, brand strategy, all the way through to creating compelling brand identity and packaging collateral. I give my highest recommendation for those looking for the best balance of business and branding know-how to work with Knightsbridge and Sam for excellent results."