Dulcetta is a family office B2B start-up that delivers contextually aware music programming that enhances reading. It plays in the background in sync with your eBook and helps focus the mind, reduces distraction and allows you to be fully immersed in it.
Founded by music moguls and Silicon Valley veterans, Dulcetta's innovative technology pairs focus-boosting music with your e-reader. The leadership team needed help securing both an additional investment round and a B2B licensing agreement with a Top-5 e-reader manufacturer. Building on our in-depth market research and testing, we began creating Dulcetta's sales collateral.
Dulcetta raised its 7 figure investment round, and made it to final licensing deal terms with Amazon Kindle. Not too shabby for a start-up who created sales-calibrated tools to win.

Assess
Sales & Marketing Assessment Report, Pre-Sale | Sale | Post-Sale Touchpoints, Buyer Intelligence, Competitor Shopping
Optimize
Sales Go-To-Market Playbook, New Lean-Data Sales & Marketing Dashboard, New Revenue Opportunities, New Sales Deck
Build
NEW Unified Marketing & Sales Story Messaging Assets, Sales DNA Standard Operating Procedure, Custom Sales Collateral Creation, Final Approved Assets Tested & Refined
Launch
Pre-Launch Marketing & Sales Training, New Sales Assets Testing & Refinement, Post-Launch Internal & External User Adoption Report.
Monetize, measure & refine
Lean-Data KPI Dashboard Monitoring, Sales-Growth Analysis, Hands-on Sales Activity Support, Monthly Sales Recommendations Report. Quarterly Sales Campaigns, and Team Workshops.
Given Dulcetta was a start-up brand, we assessed the competitive landscape, the e-reader giants, and user behavior via focus groups to assess their user adoption to this new technology.  After garnering a sound understanding of the e-reader market, users' reactions to the focusing power of Dulcetta's core technology, focusflow, we realized we have something very special to work with. 
The core technology that Dulcetta developed was ground-breaking- with a high efficacy level in all focus group testing. The power of this technology needed to be properly communicated to high power executives at the largest e-reader businesses in the industry in a manner that could best Capture | Compel | Close them in licensing the technology. Our Go-To-Market Strategy Playbook outlined the exact tactics to raise the next round of funding as well as securing a licensing agreement.
As a new start-up brand, an entirely new brand identity, messaging, and sales collateral was needed.  The creative direction that we ran with was for a vintage modern approach to technology. 

Unlike other clients, the launch process here was securing presentations with 5 international e-reader giants.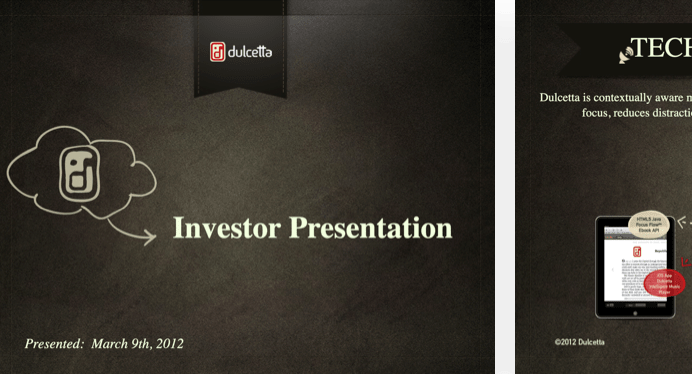 In a high stakes B2B sales environment with only 5 potential players to secure the success of our client, the need to document every interaction in every sales touchpoint to ensure everything is being done to win a presentation opportunity with end decision makers. We secured 3 meetings, with Amazon Kindle offering deal terms for licensing the technology.
During the sales consulting and development process, we also created an investor presentation that successfully raised a 7 figure investment to secure the opportunity to expand the technology capabilities as well as supporting the ongoing sales efforts.

3

meetings secured with Amazon Kindle

7

figure investment raised

1

1 licensing deal secured
"Knightsbridge has a rare ability to consistently deliver exciting, original and visually stunning branding. Their attention to collateral detail that precisely follows the company strategy is where the rubber meets the road. I recommend their services to anyone without reservation."