For time immemorable, B2B sales has been based on face-to-face interaction and closed with a hearty handshake. While the advent of the internet changed that to a degree, in-person communica=on remained the dominant approach. Now COVID-19 has arrived on the scene and changed nearly everything, including sales.
Accurate inferences made from front-line interactions provides invaluable insights for beginning to rethink various sales tactics, including positioning, messaging, follow-up methods, sales presentations, objections, client buying questions, active listening tactics, and closing methods.1
In lieu of these personal interactions, many have leveraged the power of technology to connect with potential customers, with video conferencing becoming the primary tool for sales meetings. But making this switch isn't without its challenges.
1. Adopt a video conferencing mindset
The first step to successful video conferencing is to understand prospective clients' needs have dramatically shifted. Many businesses are scrambling to figure out their new business models and revenue streams. They are reprioritizing, rethinking and re-strategizing. In many cases this means optimizing their online presence, finding new ways to add value for their own customers and determining how to protect the health and safety of their staff.
What is important to remember is that what was true in a pre-Covid19 world may no longer be accurate. Sales professionals need to make a concentrated
effort to get to know their customers again. To build authentic connections during this time, it's crucial to proactively reach out with empathetic, custom messaging and make a concerted effort to address their needs through value-driven solutions. This could be in the form of thought-leadership events like webinars and video case studies, via custom content or outbound calls, or creative and visually stimulating collateral that acknowledges their struggles in the current environment. Let your audience know any ways in which your offering actually tackles some of the challenges they may be facing during these specific times.
2. Content is (still) King
Great content gets results for one reason: it adds value. To create useful content, B2B sellers need to bear in mind that things have changed. Once-critical touchpoints have been lost, and yet the need for serious conversations has surged. Luckily, the technology to fill this gap exists.
Even prior to the pandemic, up to 50% of sales interactions were held virtually due to faster communication and cost effectiveness. Additionally, these virtual channels offer several other advantages, including an improved customer experience, where reps are more responsive and provide higher-quality touchpoints and improved overall productivity as travel times are all but eliminated.2
By harnessing the power of highly relevant, valuable, and timely content, a good salesperson can exhibit their creative, consultative and collaborative skills as effectively online as they can in-person.
3. Master the virtual call
Gong.io analyzed the audio and video of more than 100,000 sales meetings and discovered successfully closed sales used a webcam 41% more frequently throughout the sales cycle. While this highlights the importance of video in the remote selling process, it also requires the salesperson to adequately prepare.3
Use the power of video calls to your advantage by preparing as much as you would for any other sales meeting. Create a clearly defined agenda and share it with the prospect. Dress to impress, just as if you were going to their office. Double-check lighting, backgrounds and visual clutter to ensure you come across as serious and professional.
Once you're on the call, don't let yourself be distracted. It can feel unnatural to stare at the screen for an extended time, but if you're constantly gazing offscreen, the client may feel you are disinterested. If there are multiple parties on the call, be sure to mute your microphone when you're not speaking.
Keep the content focused, potent like wasabi, and drive value and check for buy-in at essential points. Much better to have a high value 20 minute Zoom call, than a tiring 60 minutes Zoom call could have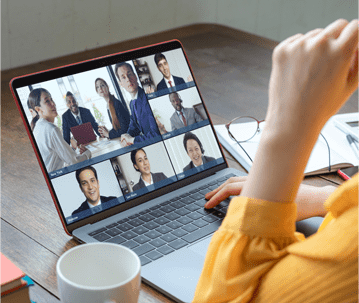 been done in 20 minutes. Zoom fatigue is a real thing and good to plan accordingly.
Record the call so you don't have to take notes. Instead, you'll be able to go back and analyze the call at your leisure, noting key points and identifying reactions, which could help seal the deal.
At the end of the call, just like in any other sales meeting, it's important to prompt the next step. If you don't ask for the sale, you probably won't get it. When everything is completed and you are off video, it's always a good idea to send a recap email to both the prospect and other parties from your company.
4. Go boldly forward
In a Bain survey, 80% of buyers and sellers believe the increase in virtual sales interactions is not a temporary trend driven by the coronavirus but is here to stay. As such, the sooner salespeople successfully adapt to this new approach, the more effective they will be.4
That means the best time to adopt a virtual sales strategy protocol is right now. To learn more about how to deliver a highly enhanced digital experience to your organization, contact Knightsbridge today.
1https://www.thundertech.com/blog/June-2020/Consumer-Behavior-Trends-B2B-Sales-and-COVID-19
2https://www.bain.com/contentassets/5ea802ac361f4e39b372313a9303e4f4/virtualb2bselling2.pdf
3https://www.gong.io/blog/if-youre-selling-without-video-youre-doing-it-wrong-this-data-explains-why/
4https://www.bain.com/contentassets/5ea802ac361f4e39b372313a9303e4f4/virtualb2bselling2.pdf